High Impact Archery hosting 1st Annual JOAD Archer Tag Tournament
May 7, 2017 @ 9:00 am

-

5:00 pm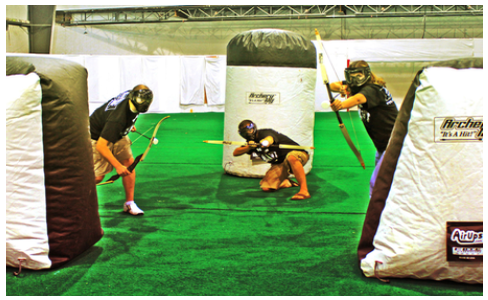 WHERE: Humphries Archery, 205 N. Elizabeth St, Pueblo, CO 81003
WHEN: May 7th, 2017
TIME: 9:00 am
WHO: Any JOAD club member
$100 per team of 5 players. Once your team of 5 is on the roster, you will not be allowed to switch teams or players, JOAD clubs may have more than one 5 person team.
Double elimination bracket….each team will get 2 warm-up games and 2 official matches at a minimum the more you win the more you play!
Plaques and medals will be awarded to winning teams.
Concessions will be on site.
MUST have a commitment by April 15th, 2017.
MUST wear appropriate clothing and shoes (tennis shoes)
ALL equipment and protective gear will be provided——-NO PERSONAL GEAR ALLOWED.
RULES:
5 MINUTE GAMES
TOURNAMENT RULES…NO PLAYER ELIMINATION
1 POINT FOR SHOOTING OPPONENT
2 POINTS FOR KNOCKING OUT OPPONENTS SPOT
2 POINTS FOR CATCHING AN ARROW
MOST POINTS AT THE END OF REGULATION TIME WINS….WINNER GOES TO WINNER BRACKET AND LOSER WILL GO TO LOSER BRACKET.
Put a team(s) together, come enjoy the fun and help celebrate a great end of season for everyone!! As a reminder, payment AND commitment MUST be made by April 15th, 2017. A minimum of 8 teams is needed to hold this event but we can accommodate up to 32 teams. For further questions or to register your team over the phone, please call the shop at 719-924-8682. To get an idea what Archery Tag is all about log on to https://youtu.be/AXKMyb2Np5o.